Manner of Speaking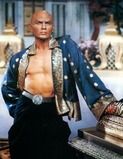 Joined: 09 Jan 2003

Posted: Sat Jun 07, 2003 2:45 am

Post subject:

---

The first year I came to Daegu, my roomate and I were woken up in the middle of the night by screaming coming from the landlord's apartment downstairs. A few seconds later we heard pounding on the door; when we opened it, we found the landlord and his wife, naked, standing on the downstairs landing, and she was screaming at him to let her go. Apparently he tried to force himself on her. My roomate pulled him off of her, she ran into our apartment. I threw a blanket around her, called my boss, and then ran down to the corner police station. I knew three words of korean: "namja - yoja, saeum!"

I brought the police back to the apartment, they interviewed the woman to find out what happened, and took statements from us, with our boss interpreting over the phone. They took away the husband and charged him with (I assume) assault, thanked us for intervening in the situation, and we didn't see the landlord for six months.

Cedar that's an

excellent

post, you should put it to your website.

In any case, the neighborhood police were completely professional and helpful, took the time to find out what was happening, and charged the husband with assault, appropriately; no differently than they would have done back home.