canuckistan
Mod Team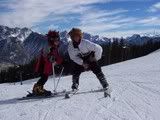 Joined: 17 Jun 2003
Location: Training future GS competitors.....
Posted: Tue Jun 24, 2003 8:33 pm

Post subject:

---

Calls to immigration on the release letter/new 9-month law get quite a few different answers it seems. This is Korea, who really knows.
One solution would be to "lose" your passport, therefore losing your work visa. A new passport would have a new number, leaving you able to start anew, and I don't believe immigration cross-checks-- all is entered under your passport number and not your name.
But that's pretty skanky and I personally wouldn't go that far.