cangel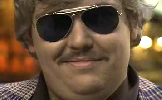 Joined: 19 Jun 2003
Location: Jeonju, S. Korea
Posted: Thu Jun 26, 2003 4:26 pm

Post subject: Pusan This Weekend

---

I'm heading over to Pusan from Fukuoka tomorrow [Sat. 06/28] with a couple of my friends. We're staying at the Paradise Hotel. Any suggestions of entertainment, restaurants, must-sees? Your help is appreciated. PS: Is it true that the Paradise bars are off-limits to local Koreans?